2013.03.10 Sunday
―Robert Pattinson's Steamy "Cosmopolis" Strip Lands Him 2nd Place in WinkBingo.com Sexiest Strip Survey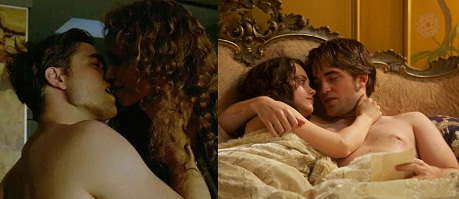 ヌードが最もセクシーな男性セレブ:ロバート・パティンソン2位(UK)
日本のウォーカープラスで紹介された海外のロバート・パティンソンの記事を紹介します。
これはイギリスの大手オンラインビンゴ・サイトのWinkbingo.comで、ユーザー投票による"ヌードがもっともセクシーな男性セレブ"ベスト5が行われたとのことで、1位のデビッド・ベッカムに続き2位にロバート・パティンソンがランクインしたことが話題になっています。
Winkbingo.com
ヌードが最もセクシーな男性セレブ(イギリス)投票結果
1位 デヴィッド・ベッカム
2位 ロバート・パティンソン
3位 ピアーズ・モーガン
4位 マイケル・ファスベンダー(『シェイム』)
5位 トム・デーリー(ロンドン五輪男子高飛び込み銅メダリスト)


情報元が賭け事のサイトでもあるので、3/9付けのウォーカーの記事とあわせてこの記事を紹介している海外の別サイトの記事で以下のとおり紹介しますね。
MovieWalker:
ヌードが最もセクシーな男性セレブのベスト5は?
(以下は抜粋箇所です)

"英国で行われたオンライン投票の結果、ヌードが最もセクシーな男性の1位に選ばれたのは、デビッド・ベッカムだった。"

"この調査は、英国の大手オンラインビンゴ・サイトのWinkbingo.comがユーザーを対象に行ったもので、2位には『トワイライト』シリーズや『コズモポリス』(4月13日公開)でヌードを披露しているロバート・パティンソン"


contactmusic.com:
David Beckham - David Beckham Tops Sexiest Strip Survey
07 March 2013

Rob came second place to David Beckham in a poll to find the sexiest celebrity strip-offs of all time.
-
The sportsman was the winner of the survey for his semi-naked modelling campaigns for Armani and H&M, beating Rob with his steamy strip in "Cosmopolis".
-
Bizarrely, third place in the poll was claimed by middle-aged newsman Piers Morgan for his spoof semi-naked advertising campaign for Burger King in 2009.


日本ではこの春、まさに映画『ベラミ 愛を弄ぶ男』『コズモポリス』と、ロブの魅力満載な映画が公開。ぜひお近くの劇場で上映される際は、一度ならず二度三度!映画館へ足をお運びくださいね。ファンの皆さんの思いは、今後のロブ作品の日本での上映招致促進の礎となることを信じて...
| source [Winkbingo.com] via [
contactmusic.com
] via [
MovieWalker
][
spunk-ransom
] Thanks!| Translation [
MovieWalker
](C) Thank you |